Roll over image to zoom in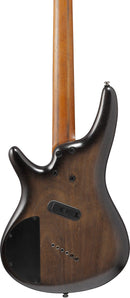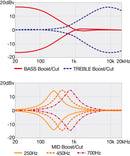 Description
The SRC "Crossover" sets the pace for this new breed, exploring a vast yet largely unexplored middle ground where the world of bass and guitar converge to create a fresh new spectrum of sound, open to bassists and guitarists alike.

- Bass Workshop -
For more than 40 years, Ibanez has pioneered new frontiers in bass development, pushing the boundaries of conventional designs to bass players of all styles, affording new avenues of expression and creativity. This spirit of exploration has led to the creation of some of the most successful and popular production basses of all time. Following this same drive to bring new and relevant ideas to the musical forefront is what serves as the basis for this ongoing project, dubbed the Ibanez Bass Workshop. The impetus behind each one of these unique instruments comes from a desire by the Ibanez bass development team to satisfy the particular needs of many players. These inventions may not be for everyone, but for those who yearn to explore new sonic vistas through the medium of bass: The Ibanez Bass Workshop project may give you just what you're looking for.

Product Specs
neck type : SRC65pc Jatoba/Walnut neck

top/back/body : Okoume body

fretboard : Rosewood fretboardAbalone Step off-set dot inlay

fret : Medium frets

bridge : Mono-rail bridge

string space : 10.8mm

neck pickup : Bartolini® BH2 neck pickupPassive

bridge pickup : Bartolini® BH2 bridge pickupPassive

equaliser : Ibanez Custom Electronics 3-band EQ w/EQ bypass switch (passive tone control on treble pot), 3-way Mid frequency switch

factory tuning : 1E,2B,3G,4D,5A,6E

strings : D'Addario® EXL156

string gauge : .024/.034/.044/.056/.072/.084

hardware color : Cosmo black
Payment & Security
Your payment information is processed securely. We do not store credit card details nor have access to your credit card information.